You are looking for a charming B&B for your vacation in the Loire Valley?

Then, we have just what you are looking for. Le Clos de la Garde is a charming small boutique Bed and Breakfast (Chambre d'hôtes), centrally located in the very heart of the Loire Valley, close to the medieval town of Chinon.
The property consists of a group of ancient buildings dating back to the 18th century and this history can still be felt today. Suite Eleonore and Suite Diane consist both of a separate living room and bedroom and are located in the annex. The recently renovated room room deluxe "Anne" is in the main building and has individual access.
A delicious French breakfast is included and we also offer you a homecooked 3-course dinner (Table d'hôtes) on request.
All rooms comprise of a modern en-suite bathroom and the large and comfortable king size beds invite you to relax after an eventful day.
Enjoy the tranquility of the countryside and feel like you "live the life of Riley"
Le Clos de la Garde is a delightful guesthouse with traditional accommodation with all modern comforts. Children and Dogs are welcome and with the appeal of French country life it is predestined to be an eventful vacation.
Further amenities include free WIFI (WLAN) and free private parking.
Numerous attractions within driving distance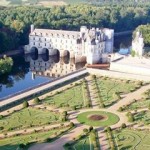 Fairytale Castles, such as Chenonceau, Rivau, Azay, Ussé and Langeais are lined up along the Loire like pearls on a chain and are all within the vicinity, as also are the splendid gardens of Villandry and Valmer. Medieval villages, museums and lively towns such as Montsoreau, Richelieu, Tours, Angers or Le Mans are fascinating to any visitor interested in culture. Relish the untouched nature whilst on a walking or bicycle tour – or, for the daring, during a flight in a hot air balloon. The region is ideal for a vacation with children. Apart from zoos and adventure parks you will find many possibilities to entertain little guests.
Or just sip a glass of wine – hundreds of winemakers in the area invite you to a winetasting in their cellars.
Experience it for yourself
Your English speaking host Manfred Fritsch will be delighted to welcome you and make your vacation in France an unforgettable one.

New in 2016
All our visitors admire the little "monastery garden". It's herb produce is used in the kitchen, but also for herbal teas for breakfast.